BBC - Great British Menu
Posted: 19/4/2012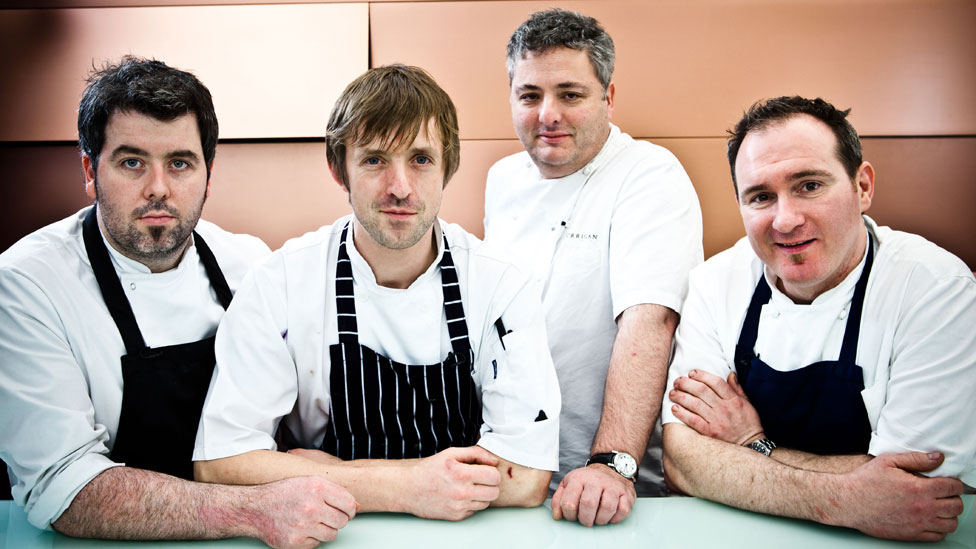 Great British Menu is back and the nation's greatest chefs are battling it out for the chance to cook a glittering Olympic Banquet. Their task for 2012 is to create a menu that is breathtaking, awe-inspiring and captures the Olympic spirit.
It's week four of the competition. In the Northern Ireland heat are Chris Bell (Galgorm resort, Ballymena), Chris Fearon (Deanes at Queens, Belfast), and Niall McKenna (James St South, Belfast). All of them are determined to knock out their rivals in the race to the banquet.
This week Chris Bell also meets former Olympic boxer Amir Khan, who shares his tips on excelling at the highest level.
Twenty-four of the finest chefs in the country will compete in eight regional heats for the opportunity to create a world-beating four-course menu at a prestigious event at the Old Royal Naval College in Greenwich, hosted by British Olympic legend Sir Steve Redgrave with a glittering guest list of British sporting greats.
Great British Menu veteran Richard Corrigan returns as a regional judge. He will decide which of the chefs will go through to be judged by Prue Leith, Oliver Peyton and Matthew Fort on Friday, for a chance to make the national finals.
On Monday they kick things off with their starters, but which will be first out of the blocks? Chris Bell's 'tea & biscuits', rabbit, black pudding & rhubarb salad; Niall's Pig sweetbreads, black truffle and baked onion or Chris Fearon's 'Clay pigeon shoot'?
In Tuesday's programme the chefs cook their fish course: Chris Bell serves red wine poached turbot and bourguignon of snails, Niall cooks turbot with asparagus, blood orange sauce and Rose powder, while Chris Fearon prepares 'Skate Rings'
In Wednesday's programme the chefs present their main courses - but which one will get gold? Will it be Chris Bell's roast Lissara duck, Bakewell tart, cocoa amd basil; Niall's Dexter beef with miso and fresh almonds or Chris Fearon's Spring jump lamb?
Thursday is the final chance to impress Richard with their desserts: Chris Bell prepares summer salad of jasmine panna cotta, apricots and pistachio cake; Niall presents apple sorbet, elderflower custard and whiskey jelly and Chris Fearon's serves 'The Torch'.
On Friday Prue, Oliver and Matthew decide which of the Northern Ireland chefs will make it through to the national final, for the chance for one of their dishes to be on the menu at The Olympic Feast.
DL